First Aid at Work and Re-qualification

This comprehensive Level 3, Ofqual, first aid at work course is for people intending to act as a First Aider at Work. The course is designed to provide the First Aider with the skills necessary to give effective life support, diagnose and treat injuries or illness, and maintain care and comfort of the casualty.
This course can also include AED training for those with an on-site AED.

**Held at your Venue or Ours**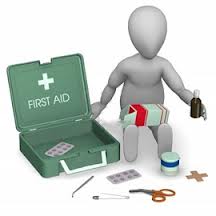 Using a first aid kit
Simple record keeping
Treatment of an unconscious casualty
Angina and Heart Attacks
Resuscitation
Shock
Choking
Minor Bleeding

Major Bleeding 2016/17

Head Injuries

Burns and Scalds
Animal Bites

Poisoning

Fractures
Sprains and Strains

Seizures
Hypoxia
Body Temperatures

Asthma
Severe Allergic Reaction
Eye injuries
Low/High Blood Sugar
Fainting
AED (2017)

and more....
Each person will receive there own course book and on completion an A4 certificate, record of achievement and ID card certificate.

12 hours (minimum 2 days) for those with previous first aid at work qualifications
18 hours (minimum 3 days) for full initial first aid at work qualification.

Minimum of 1 person and maximum of 12 per instructor

£150 per person

Why Not get a group of you..!
Group booking prices start from as little as £100 per person* (Only £1200 - 12 people)
Please contact us for a quote.
Prices depend on number of people, location and number of days of training.